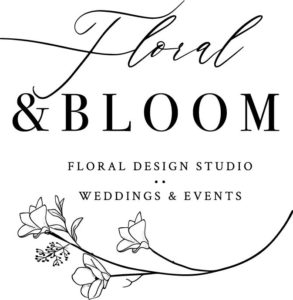 I asked Rachel from Floral & Bloom to help answer some questions for Brides who are navigating this difficult time of postponing their weddings. The seasonality of your wedding can have a big impact on everything from venue to florals. Rachel weighs in to discuss when you should start talking to your florist about changes, ways to keep your florals as close to your original vision, and colors that work for new seasons.
There is so much beauty to be found in every season, see Rachel's tips below for embracing the new time of year when you will say "I do".
How does changing seasons impact your wedding flowers?
If you were originally planning on a Spring or Summer wedding, some of the flowers you originally talked about might not be in season in the Fall or Winter months. For example, blooming branches in the Spring are only available during that time of the year. I would ask your florist what substitutions they would suggest and be open to their professional opinion for options. You can embrace the new time of the year that you are getting in married in or if you always dreamed of light and airy blush and white florals that is totally fine too!
What advice would you give to brides in regard to their wedding floral design changing from one season to another?
I would be open to new florals and greens available in that season. Trust your florist, you hired them for a reason and they will guide you in the right direction. You do not always need to sacrifice the variations of florals you originally planned on but maybe even changing the kinds of greens/foliages used to compliment the new season you are getting married in.
When should brides begin to speak with their florist about changing designs/orders?
You can reach out at anytime to talk about changes to your design. Letting your florist know at least a month before your wedding of any changes you would like to make is always ideal. If you are getting married the following year it might be good to reach out a little later on just so you and your florist can discuss as you are getting closer and review the original proposal together. After you have postponed, I would suggest reaching out to your florist and asking when the best time to discuss changes to your proposal and design so you can set a reminder on the calendar to reconnect.
What are some complementary palettes for Spring/Fall and Summer/Winter?
How can brides keep original designs as similar as possible?
I love fresh whites and greens year round. Again, maybe embracing winter greens or foliages can transition the design without having to change your overall colors and types of florals. For Spring and Summer, lighter tones or pops of vibrant colors are always beautiful. Blush, peach, lavender, and corals work great for the Spring and Summer time. If you are transitioning into the Fall more mauve, burgundy, and russet tones are really nice. This does not mean you have to totally eliminate your original colors. You can always mix some of those lighter tones in as accents as well.
A huge thank you to Rachel from
Floral & Bloom
for these helpful tips! Be sure to give her a follow on Instagram where you can find all of her stunning work
@floralandbloom
View some of my inspiration palettes below!